The 25 Best Date Spots in Washington D.C (According to Daters!)
Washington DC can seem like a stuffy and regal city, but on street level it's a vibrant and romantic hub of culture. Historical sights, world-class parks, and authentic Italian and Spanish cuisine -- DC is more than pristine government buildings and the backdrop to House of Cards.
(Source: Wikimedia)
In this guide, we'll share the best dating spots in the nation's capital -- as proven by science!
By averaging review scores and evaluating mentions of highly-praised dating spots across the web, we put together this resource to help you find the perfect place to take your date.
As well as looking at overall ratings and individual reviews, we also analyzed date spots by the ratio of reviews left by couples vs. not -- this gives extra insight into how popular a spot is with real daters.
Let's take a look at the 25 best spots!
Estadio
Estadio is a cosy Spanish restaurant in the fashionable and central Logan Circle neighbourhood. For its location, reviewers rate its excellent cuisine as a great bargain at $8-10 per plate. Across Yelp, Tripadvisor and Foursquare, Estadio has an average rating of 4.1, and glowing reviews, specifically on its authentic tapas.
If you're after a restaurant with lively food and a niche selection of Spanish wine, Estadio could be the perfect date spot. Of the 578 reviews on TripAdvisor, 33% of them were left by couples.
What daters say about Estadio
"I recently took my boyfriend, who lived in Spain and he loved it so much that we've decided to make it a monthly date night. Although it gets crazy busy, the staff is always polite and attentive. The food is amazing and you'll get full pretty quickly with the decent size portion" - Elaine M., Yelp
"Looking for Tapas? This is your place! Friendly greeting at the door. The Brussels sprouts were absolutely amazing. We also loved the scallops, olives, fresh radishes, and the pumpkin bread pudding for dessert. Did I mention the cocktails? I don't normally have two with dinner but I could not resist — the Spanish Old Fashioned was delicious. We enjoyed sharing all these delicious bites" - Romelle C., Foursquare
"Love it, love it, love it! Fantastic tapas and skilled bartenders who can handle your every liquid refreshment options. Extensive wine list matched to food menu. A great date location." - Joel T., TripAdvisor
Why Estadio is a great date spot
Source: Estadio
There are a ton of great date spots in DC -- many of them even in the same Logan Circle neighbourhood -- but what makes Estadio unique is its tapas. It may not have a selection as large as some, but the quality of each dish is what counts. Almost every review on the web praises Estadio for its delicious tapas, which go down well with the bar's quirky selection of Spanish-twist cocktails.
Critics and couples alike rate Estadio highly; it placed #24 in Washingtonian's top 100 DC restaurants. It is also mentioned as a popular brunch destination for DC area chefs by Thrillist, which speaks to the kitchen's high standards.
What to do nearby Estadio
The nearby Logan Circle neighbourhood has a rich history, from civil rights landmarks to a house painted with a famous watermelon mural.
Source: Incorrigible Curmudgeon
In Summer, the residential park area -- with its tall mansions and trees -- makes a good route for a stroll.
If you and your date prefer rare beers to Spanish wine, stop by ChurchKey after your meal for a selection of over 500 ales, IPAs, lagers, and stouts.
As Ed C. on TripAdvisor says, Estadio is the "ideal spot to have a pre-theatre dinner". That's because the highly-rated Studio Theatre is right across the road. The theatre interior is intimate, with less than 250 seats, and is a great setting for the independent and artistic productions on offer.
Dirty Habit
Source: Dirty Habit
Dirty Habit is a film noir-inspired local favorite in the classy center of Washington, D.C. It offers a wide range of cocktails and provides ambience for either a romantic date or relaxed meetup. Open for breakfast, it is a great place to visit all day long for good food - even for vegetarians.
Dirty Habit has earned a rating of 4.0 across Yelp, TripAdvisor and OpenTable. Out of 143 TripAdvisor reviewers almost half were couples who recommended this place equally enthusiastically for the first date or the 100th.
What daters say about Dirty Habit
"As soon as we walked into the venue, we were greeted right away by the General Manager, William. The hostess sat us down shortly after with no wait, since we had a 8:00 reservation. The server greeted us not long after we sat down and recommended amazing items for us.
They truly make wonderful and unique drinks that I highly recommend & their food is so flavorful. I definitely recommend this place for couples looking to go on a date or even a social gathering for friends. I loved the music and the vibe. I loved that it's a mini getaway inside DC." - Cyndi T, TripAdvisor
"This is by far my favorite bar in DC. Every time someone visits be here I bring them to Dirty Habit. I've even brought a Bumble first date here and had a great time. The courtyard outside is so beautiful, has plenty of lounge seating, bar, high table tops and pretty lights. Very cute scenery to bring for the first few dates. Highly recommend for all occasions." - Laura H., Washington, DC, Yelp
"Had a great time celebrating ninth anniversary with the wife. Made a note of the occasion in the app and they not only had a few different people over to say congratulations they comped our drinks and gave us a dessert to go. Our server Darryl was excellent. He was very friendly and knowledgeable of the menu. Fun place to go right in the heart of DC and convenient to just about everything. I recommend." - OpenTable Diner, Washington DC, OpenTable
Why Dirty Habit is a great date spot
Source: Dirty Habit
Couples have praised Dirty Habit for the amazing staff, speedy service and great atmosphere.
Its excellent location means daters can always extend their evening by visiting many local attractions. This is made even easier as the restaurant takes reservations so you can plan your evening ahead.
It's a great spot for anniversaries and milestone dates as the staff is especially attentive to ensure your special moment is a success. However, couples also have highly praised Dirty Habit for the first date experience or even making it their regular.
Dirty Habit has a wide range of delicious and beautifully served cocktails and is open all day so is available for breakfast, lunch and dinner dates.
What to do nearby Dirty Habit
Right across the street from Dirty Habit are two art galleries. At the National Portrait Gallery you can view many exhibitions or the presidential portraits and it is possible to book tickets ahead to avoid queueing and have your day go off without a hitch. The other is Smithsonian American Art Gallery which also offers many exhibitions; check out the current ones here.
Source: Washington DC
If you're headed for a dinner date you can first visit the International Spy Museum where you can view exhibits, speak to real former spies and even test out your skills in espionage. The museum offers buying tickets ahead of time or even make it your regular by getting a club card. If you or your date have a child, don't worry, this place is suitable for kids and offers free entry to children under the age of 6. And it will surely give you something to talk about over dinner.
Only a few blocks ahead you can visit the White House and enjoy the Freedom Plaza on the way. Or you could go the other way and view the famous Chinatown Archway which was the biggest ones of its kind at the time of being built. The surrounding area consists of about 20 Asian restaurants and a small business as well as bigger chains like Starbucks if you're up for a coffee after your meal at Dirty Habit.
After the dinner, just a short walk away you can find the Old Post Office Pavilion where you can enjoy a great view from above overlooking Washington D.C.
2491 Restaurant
A destination for upmarket romance, 2491 Restaurant isn't in the bustling center of Washington but rather 15 miles West through Arlington in West Falls. While it's only 15 miles out of the center, the grounds of 2491 feel a world away.
With koi ponds and a lakeside view, 2491 makes for an elegant and special date spot but may not be for couples on a budget - its price range is in the 'fine dining' category, but its higher price tag is warranted. 2491 scores an average of 4.2 across Yelp, Tripadvisor and Open Table.
Of 2491's 476 Tripadvisor reviews, 30% were left by couples, who were even more likely to rate it as excellent than families.
What daters say about 2491
"Still our go-to date night. The space is beautiful, particularly late summer as the sun is setting. Very high ceiling and glass walls; quite lovely and romantic." - dejindc, TripAdvisor
"When I was still living in DC, this used to be my favorite date night spot. There's complimentary valet parking and if that fails, free large parking garage in the back of the building. The ambiance is romantic featuring a manicured garden and pond surrounding the restaurant visible from inside the restaurant from the floor to ceiling glass window. It's also close to Tyson's Corner making chaining dinner and movies easier than ever." - Priscilla M., Yelp
"If you want to impress a date, this is one of those restaurants you take your date to. The bar looks awesome and the seating area is very clean and the layout is nice. You can impress that date even before you eat." - Maria M., Yelp
Why 2491 is a great date spot
Source: 2941 Restaurant
If you don't mind the trip, 2491's idyllic location, free valet parking and renowned quality take the extra stress out of dating in DC. While a large and impressive restaurant, the setting is still intimate; MJ C. on TripAdvisor writes, "It was easy to talk but not so quiet that it feels stuffy like you have to whisper".
2941 was named America's #1 romantic restaurant by The Daily Meal, and was awarded the Wedding Wire Couples Choice award, recommended by 94% of visitors.
What to do nearby 2941
Situated in Falls Church, 2491 Restaurant is only a short drive away from the center of DC, but while you're there it's worth checking some of the unique attractions the area has to offer. For example, niche brewery and taproom Audacious Aleworks has dozens of beers you and your date will have never tried before -- everything from the hoppy Lord Humungus Double IPA to the 10.5% Black Forest Imperial Stout.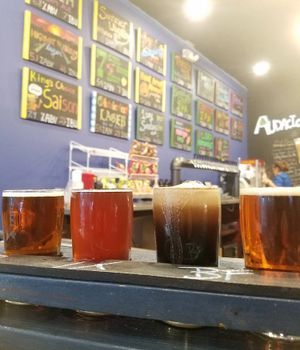 Source: Audacious Aleworks
For an experience more matching the luxury of 2491, you could book a spa session at the Ritz-Carlton Spa, 3 miles away in McLean.
Joselito Casa De Comidas
Source: Joselito Casa De Comidas
What better way to get romantic with your date than at the authentic and intimate Joselito Casa De Comidas? The place offers various dining styles from a la carte lunch options to a leisurely weekend brunch.
Seated in Pennsylvania Avenue near the Eastern market, the food ranges from 11 to 30 dollars, and is worth every penny, with a rating of 4.2 across Yelp, Tripadvisor and OpenTable. It's highly-rated for the location, openness, ambiance, and traditional Spanish food served with a modern twist.
Joselito Casa De Comidas is a time-tested spot to take your date, with a couple ratio of 75% on TripAdvisor.
What daters say about Joselito
"My wife picked this restaurant for our special night and wow what a find. We went with the tapas portions and glasses of Spanish wine and our server was so helpful in guiding us through – Best Spanish food since I've been to Spain." - Denny M., Tripadvisor
"I had the opportunity to eat here the second time, this time for lunch. It is super delicious. It reminded us that Joselito is the real treasure on Capitol Hill. The food is top notch, consistent and adventurous with delicious drinks to follow." - Jason L., Yelp
"Very Romantic and perfect date setting for conversation." - SyHarris, Washington DC, OpenTable
Why Joselito is a great date spot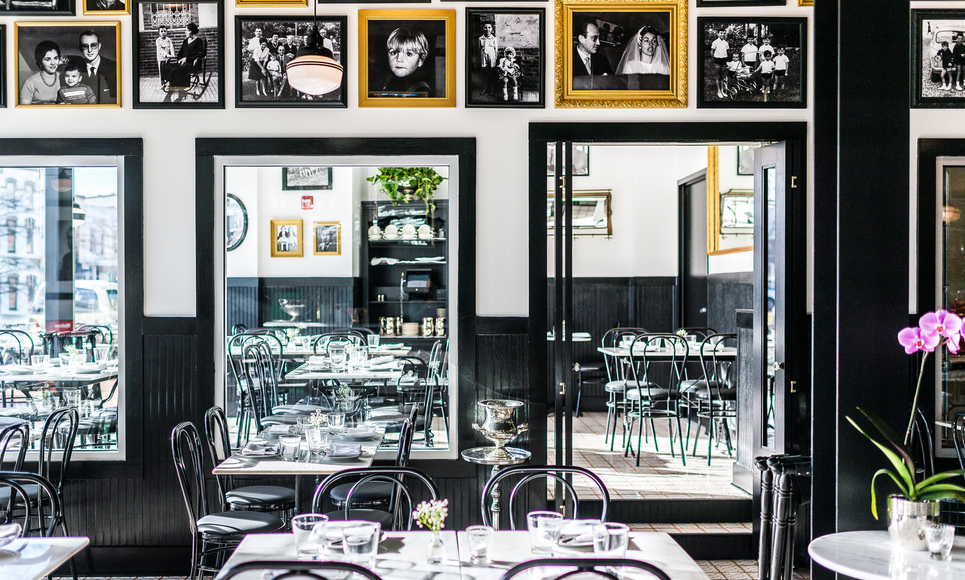 Image source: Joselito
There are hot spots all over Washington D.C, but if you are looking to take in the culture and diversity of D.C in a single spot, then Joselito Casa De Comidas is the place to be.
While most of the reviews praise the food, ambiance, and welcoming attitude of the waiters, the wide variety of drinks are a big reason why Joselito attracts wine gourmants as it was awarded "Best Wine Program in the DMV" from the Restaurant Association of Washington area in 2011.
What to do nearby Joselito
Pennsylvania Avenue, where Joselito Casa De Comidas is situated, is where you will find the city's most famous attractions including the White House, the Capitol building, and several flea markets for those looking to combine a good meal with a nice browse for a local souvenir to commemorate the date.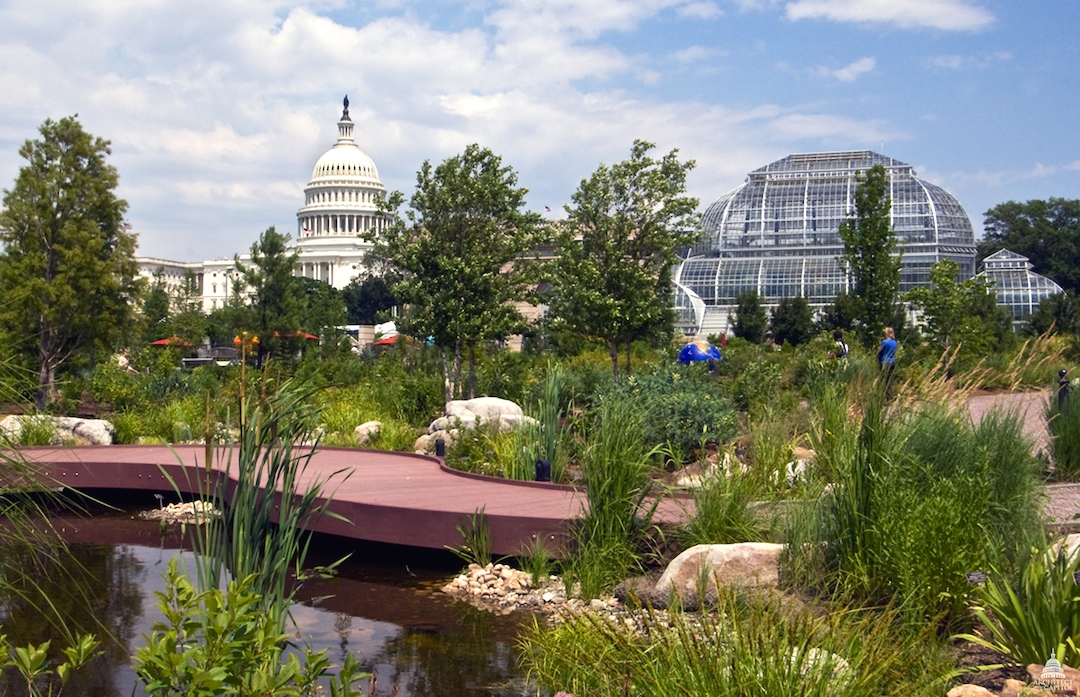 Image source: USBG
To complete the date, you can visit the United States Botanical Garden located about a mile from the venue offering a nice walk for a private conversation whilst taking in the exotic plants or pick your favorite from the butterfly garden.
Etto
Image source: Etto
Logan City in Washington DC is the home of several restaurants, most of them Italian. One of the better known is Etto, situated at 1541 14th Street NW, on the corner of 14th and Q Street.
It is said to be one of the best places for margherita pizzas in the entire USA according to The Washington Post and their cauliflower pizza is the reason they were listed in The Best Pizzas in D.C. article dcist.
It is also recognized by Washingtonian as one of the best 100 restaurants in Washington DC.
A solid 4 star rating on Yelp and Tripadvisor has made it a favorite for daters - 53% of its diners are couples.
Image source: Etto
What daters say about Etto
"Once me and my +1 walked in, we were immediately taken away with the intimate and yet bustling status of Etto on a Sunday night. The restaurant is mainly one floor that have rows of tables splayed out complimented by the intimate lighting of table candles. Once we walked in, we were immediately seated close to the windows for optimal people-watching capacity. - Usha M., Yelp
"If your looking for a pizza adventure, this is the place. they even grind their own flour! We arrived late and there was no waiting. Ample outdoor dining area was about 60% full and we were seated (inside) right away. The wine list by the glass is limited so be prepared to try something new. They have some heady selections by the bottle if your wallet is up for the challenge." - Jennimusing, Winston-Salem, TripAdvisor
"Excellent food and service! The dessert was the best part of our meal. Would highly recommend for a date night out!" - Kia M, Madison, Wisconsin, TripAdvisor
Why Etto is a great date spot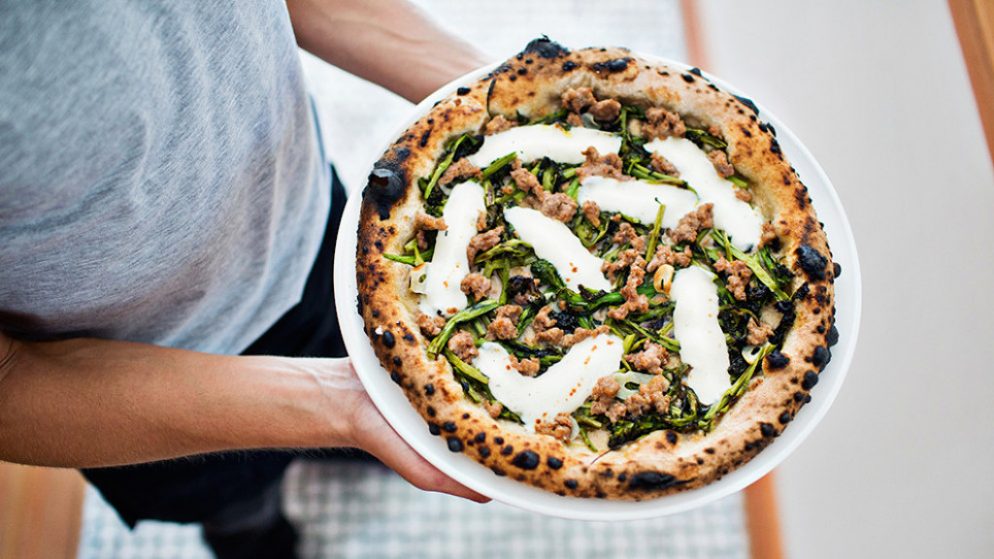 Source: Scott Suchman
What makes Etto stand out is the sweet and delicious taste of their ever-changing non-stagnant meals and cocktails.
This is coupled with their soothing, calm, and homely environment for couples, and an awesome customer service relationship makes it a place to be for your date night!
TripAdvisor awarded Etto a Certificate of Excellence 2015 - 2018 Winner, and we can't help but concur because Etto is all-round excellence.
What to do nearby Etto
Logan City where the restaurant is located is a beautiful and perfectly conducive environment for couples to take a cool stroll hand in hand. Logan City has lots of attraction sites you and your date can visit and explore before or after your meal and drink at Etto.
Ice Cream Jubilee is a great spot in Logan City where you and your date can go for a dessert if you choose to skip on the selection at the restaurant. You can enjoy natural ice cream, sundaes, and milkshakes with different flavors as appetizer or dessert.
If you and your loved one enjoy the theatre scene, Studio Theatre is the best place to watch awesome plays including modern remakes of classic plays.
Image source: Studio theatre
Officina
Source: Officina
Officina is the creation of a Michelin-star Chef Nicholas Stefanelli. In just one place you get to choose between a fine dining experience on their rooftop Terrazza, eat reimagined Italian dishes in the Trattoria or grab a quick bite in the Cafe before going for a browse in their culinary marketplace. We advise you to choose one of the dining option first because no place is harder to resist on an empty stomach than the Mercato with its wide range of delicious foods from pasta to veal to desserts and even a bottle of wine to match your food choices.
The menu includes a line-up of pastas, mozzarella, antipasti (pasta soup, cannellini bean and arancini) and charcuterie. Reviews from the web show an average 3.7 star rating which mostly takes a hit from the small portion size - a commonality in the gourmet food world. Out of all the TripAdvisor reviews 27% were reviewed by couples.
What daters say about Officina
"Go check it out! Food is pretty good. I wouldn't call it a staple, but definitely a place to try on your next date night or friend dinner!" - Taylor E., Washington, DC, Yelp
"We celebrated our wedding anniversary here and the food was outstanding! An authentic menu, service attentive and unlike many American restaurants they allowed time between courses! A welcome change!" - HodgygarraX, Washington DC, District of Columbia, TripAdvisor
"This new restaurant is worth any ride you have to take to get there. The food was awesome. Recommend any pasta dish, artichoke and focaccia appetizer. Desserts are excellent! Great wine and cocktail selection. The view on the rooftop bar is amazing with fire pits and a beautiful view of the Potomac River. Congrats to chef Nick Stefanelli." - jfkk2014, Washington DC, District of Columbia, TripAdvisor
What to do nearby Officina
Perhaps either you or your date is a history enthusiast? Anderson House is a museum located nearby Officina were you can explore the history of Cincinnati which can be both a great place to visit after a light lunch or visit it before the meal for some good table talk.
(Source: Tudor Place )
You can also enjoy nature's gentle touch in gardens and parks located nearby. Tudor Place – the home of Martha Washington and her descendants is where lies the true story of the American history. The gardens are well preserved and beautiful - perfect for a romantic date mixed with some historical insights.
If your date is scheduled in spring we suggest a quiet, romantic walk along the Mary Livingston Ripley Garden. Admire the eye-catchingly beautiful flowers come to full bloom during a post meal walk (whilst, perhaps, still gushing over the ne found facts you learned about Martha Washington?).
Centrolina
Image source: Centrolina
Centrolina is an Italian restaurant offering wide range of meals including Mediterranean choices. It is located in the Washington's New City Center and is run by a local chef Amy Brandwein - a James Beard Foundation Awards finalist. The restaurant is right next to their on charming restaurant market where you can buy high quality dairy products or simply grab a sandwich if you're in a rush to visit the surrounding entertainment places.
Rating an average of 4.5 across Yelp, TripAdvisor and OpenTable with 39% of the raters being couples, it seems to offer a wide range of dining options from very affordable meals, including vegan options, to a private dining room for just the two of you.
What daters say about Centrolina
"An extraordinary dining experience from start to finish. Service was attentive without being cloying. My date and I shared a meal, starting with crispy ravioli and a salad verde with fried egg. The kitchen split the salad beautifully and the taste was phenomenal! We moved on to a spaghetti Bianca which was split and plated perfectly, and was a lovely contrast to the first course. Finally, we finished with the ribeye steak. Wow! Tender, succulent, perfectly cooked and seasoned, and served with a delicious and bright salsa Verdi. An amazing finish to an amazing meal. Bravo!!!" - William S., Arlington, VA, Yelp
"Terrific date night place. Pasta and seafood were absolutely wonderful. Ribeye steak was too salty for our taste, but the staff took it off our bill, no questions asked. Our waiter was world class and the bartender took the time to chat about the recipe of the cocktail my lady was drinking so we could try to recreate it at home. Our first visit here but definitely not the last." - Brandon B., Alexandria, VA, Yelp
"My wife is kind of a foodie and I wanted someplace special to celebrate her birthday. Centrolina is a James Beard finalist. I had the black squid ink pasta while she ordered the black cod special and paired it with a great Sicilian wine recommended by the staff. It was superb. Service was attentive but not cloying and super helpful. I would go there again in a heartbeat but alas, we're not locals." - Lives2Eat, Minneapolis, OpenTable
Why Centrolina is a great date spot
Grab a quick bite in-between city sightseeing or settle in for a romantic private room with just you and your partner, have a steak or a vegan meal - Centrolina is a place that caters to all types of culinary and mood setting requirements. Loud enough for any conversation to be private, never too full so the staff can give you that special level of attention giving you the perfect balance of privacy and attention.
What to do nearby Centrolina
The CityCenterDC is a development center with various entertainment options. There are condos, apartment buildings, office buildings, hotels, restaurants, and a park. The CCDC is 0.6 miles away from the White House. A stroll through Palmer Alley is the perfect way to get to know your date better before or after the meal.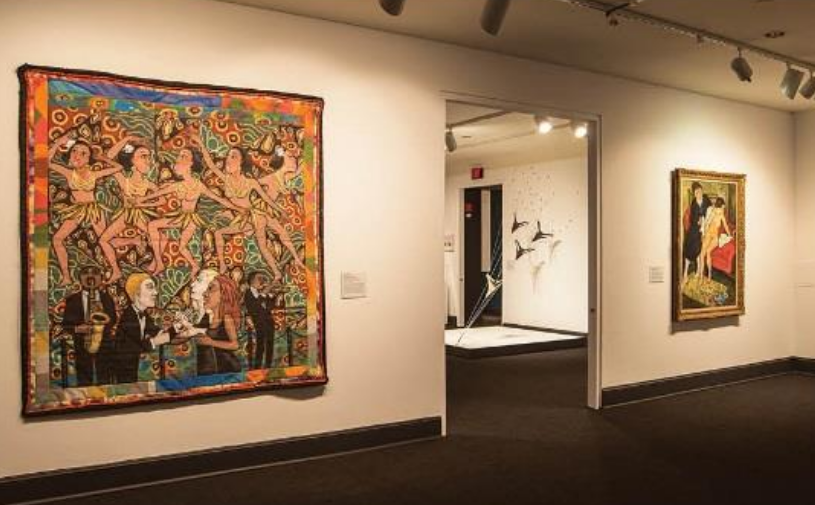 Source: NMWA
Take your date for romantic bonding at Caudalie Spa just around the corner, or opt for the National Museum of Women in the Arts if you wish to show off your knowledge of the arts or learn something new together. The museum holds over 5,000 works of art dating all the way back to the 16th century. It holds 18,500 books and has educational programs such as workshops, history lectures and even talks with artists.
Ford's theatre, a historical monument where President Abraham Lincoln was assassinated, might not be the most common dating spot but it might just be the right choice for fans of history or dark tourism. On top of the chilling story you can enjoy a musical show at the theatre and discuss it later over the dinner and maybe a calming glass of wine. Fear is an aphrodisiac!
The Pub & The People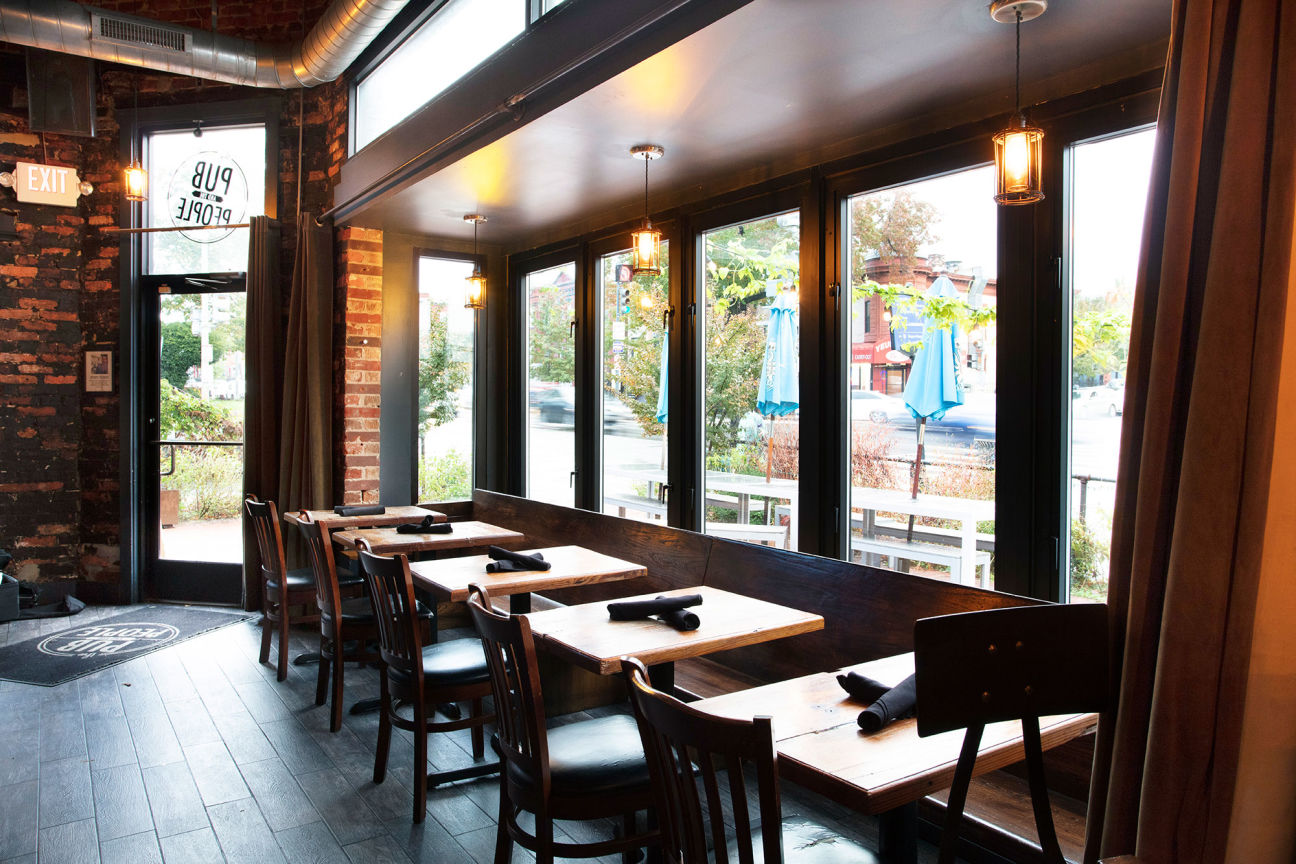 Image source: the pub and the people
The Pub & The People is a hub for good drinks and great people. Starting the spring season it also offers a dog-friendly tent with blankets and spiked cider so you or your partner don't need to look a place where to leave your furry friend whilst enjoying a nice night out.
The Pub is located in a very friendly neighborhood with a fantastic selection of beers and delicious cocktails as well as truly amazing food. As it is a more down to earth pub the prices are very affordable and the working hours are friendly for late night dates. The restaurant has a whooping 4.7 star rating across Yelp, TripAdvisor and OpenTable with 27% reviewers being couples.
What daters say about The Pub & The People
"My partner and I had a killer, low-key date here on a Saturday afternoon. She went big on food and Bloody Mary while I took it easy with a basket of fries. Both of us were pleased with thedelicious offerings and good service.
My favorite part is the cozy vibe. The lighting and abundance of books interspersed with the booze behind the bar make it feel like home. When in the neighborhood, I recommend stopping in." - Joseph E., Washington, DC, Yelp
"A very sociable bar with friendly staff and an informed view on all the beers available. The Olympics were on the TV and everyone was on a buzz. Lots of interaction with the sports and good conversations all round. A recommended place." - KeithTravelLite, Brisbane, Australia, TripAdvisor
"I came here on a Tuesday night for a date, and had a wonderful time on the patio! Justin was our waiter, and was very helpful in recommending some good bourbon. They have a niche selection of beer, and my favorite part of this place is the bathroom which is lined with dog pictures. Because who doesn't like dogs?" - Sasha S., Washington, DC, Yelp
Why The Pub & The People is a great date spot
Source: The Pub & The People
This place will be perfect for a couple of dog lovers or craft beer enthusiasts. A cozy atmosphere will urge you to wrap yourself in a blanket and read a book together in the very heart of Washington D.C. It is also a fan favorite during various sports seasons as it has a TV airing various games. The place will be perfect for a low-key couple wanting to go out, meet new people or find their little island of privacy in the city rush. Be it a Tuesday night or a Saturday evening, the reviews are in - The Pub & The People is all in the name!
What to do nearby The Pub & The People
The neighborhood is quite accommodating and interesting for all types of couples. There are tourist attractions in sight which include Boundary Stone - a local neighbourhood establishment where you can enjoy some drinks, food and good music. It's a socially and environmentally responsible, and a historically-relevant place to take your date for a good conversation. St Augustin Catholic church - the first black Catholic church is right nearby which is a historically monumental building for religious or sociologist travelers.
The Ghosts of Georgetown walking tour offers an informative historical entertainment to ensure you have somehing fun to talk about over drinks so you won't have to look for words. And when in doubt? Dogs, dogs, dogs!
Little Beast
Source: Little Beast
Little Beast is a cozy bistro with great food and great staff. What makes it stand out is that it focuses on being child friendly so if you or your date has a child you will save yourselves the worry of finding a babysitter last minute. It also hosts a variation of high brow events such as evening live Jazz performances which suggests it has room for live music quite often. You can check their page to see upcoming events.
On top of being kid friendly and offering a range of entertainment, it has been awarded one of the top 14 hottest restaurants in D.C. as recently as December 2018. And with its new design it has recently updated the menu to include some of the dinner pizzas in the brunch menu.
The restaurant has a 4.2 star review on Yelp, OpenTable and TripAdvisor and whilst only 16% of the reviewers were couples, we believe that the child friendly aspect merely suggests that most couples opt for the "family" checkbox.
What daters say about Little Beast
"Wilson HS grad has opened a wonderful bistro in Chevy Chase. The place was packed tonight, probably with lots of folks grabbing dinner before an 8 pm Avalon show, but it stayed busy. We ordered the ricotta and calamari appetizers-- both delicious! Really spicy calamari, very generous portion of the ricotta. Our pizza was veggie plus anchovie -- perfect thin crust from the wood fired oven. We ordered a bit much for two people, but leftover pizza is always welcome. One appetizer or salad and a pizza would suffice. Wait staff friendly and service prompt but not rushed. Bravo!" - OntheRoadMom, Washington DC, District of Columbia, TripAdvisor
"We heard good reviews about Little Beast and it lived up to them on our dinner date Valentine's Day 2018." -SebDoll, OpenTable
"Third time at this restaurant and they never disappoint. We had a young child with us this time and they made us feel very welcomed and had table activities for her to keep occupied. Nice friendly comfortable ambience with some unusual menu selections." - marnie, Los Angeles, OpenTable
Why Little Beast is a great date spot
Image source: Little Beast
This place is perfectly suited for your first date or for the 100th. Whether you are just getting to know each other over a good meal or celebrating a special occasion with your loved ones, this is a perfect dating spot for everyone who enjoys good Italian food, authentic oven-baked pizzas and a creative design.
It is especially suited for couples with small children as it has an outdoors play area and children's menu, as well as indoors activities. And regardless of your age - anyone can enjoy a good chocolate cake! It has been highly recommended by diners of all across the board.
What to do nearby Little Beast
There are quite a few things that make this restaurant a perfect date spot. You could go sightseeing at the Fort Reno Park or if you are taking a trip together you could stay at the luxurious Embassy Suites.
For a unique cultural experience, the nearby Politics and Prose Bookshop regularly hosts author readings and events in its hip independant store.
Eden
Image source: edendc.com/
Dating isn't all about quant restaurants and afternoon coffee. Sometimes couples need a club night to blow off steam, dance, and hear new music. Eden is a Drake-approved nightclub located in the center of DC, famous for its diverse crowd and relaxed rooftop lounge with smooth beats and firepits.
Its average rating across Yelp, TripAdvisor, and Foursquare is 3.1.
What daters say about Edens
I've been hipped to Afrobeats for a couple years and had the hardest time finding places that played my favorite genre of music. He bounced between Afrobeats and Reggae. Some guy was selling mac & cheese with jerk chicken in the back. Very diverse spot. It was a good time, I'd definitely come back. Amira, Yelp.
With all four levels looking beautiful with different DJ's and music, it is a MUST SEE!" Dan, Yelp
There is nothing better than the rooftop of Eden. Personally i think its the best rooftop in the city. - Michael M., Yelp
Why Eden is a great date spot
The rooftop attracts the most positive reviews for its view, theme parties, and atmosphere. DC Clubber calls " one of the most unique settings in DC nightlife" and "a lush forest amidst our nation's capital," praised for its jungle-style decor.
Eden has a dedication to great music, sometimes featuring live congos and saxophone alongside its DJ sets on the rooftop. However, for a more intimate vibe, the Forbidden Room was built with couples in mind, to enjoy more laidback music in a smaller setting -- this makes Eden a good choice even if you're not into raving the night away.
What to do nearby
Before heading out to Eden, get something to eat at Sushi Hachi, a Japanese sushi bar known for bold flavors and the best rolls in DC.
If you're on a club crawl, stop off at The Park at 14th - a lively nightclub and restaurant serving comfort food at affordable prices. The meal is sure to put you in the right mood for a night out, or at least provide something to soak up the cocktails afterwards!
The Willard Intercontinental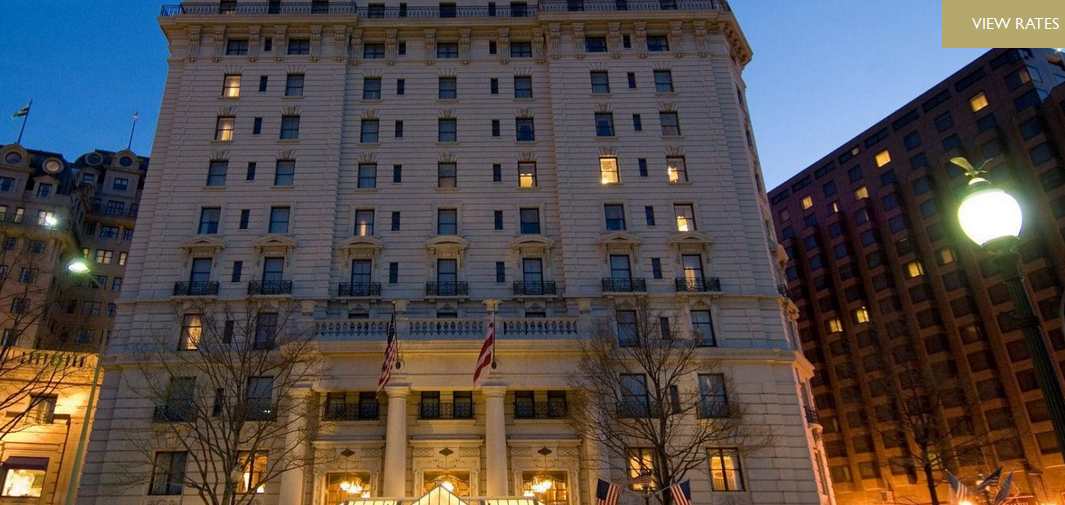 Image source; Willard Intercontinental
The Willard Intercontinental is a five star hotel located directly in the heart of Washington, DC. It has 335 spacious and tastefully furnished rooms as well as a cafe, Parisian restaurant, terrace for dinners, full bar, a lounge, fitness center / gym, a banquet room, spa, hot tub and even a laundry service so you don't have to worry about a thing whilst staying there.
The venue is child friendly and even offers childminding services including meals catered specifically to the child's dietary needs and preferences. Children can be left in a caring environment with a library, board games while you enjoy time for just the two of you or you can take a family history tour together.
The venue is also pet friendly and has a number of other services including transportation and even caters for your shopping needs without having to leave the territory.
It offers special treatment to couples and families, each guest is treated individually and their needs are catered accordingly. A slightly pricey option for those who are seeking the luxurious weekend getaway.
It has a 4.3 star rating across TripAdvisor, Yelp and OpenTable and is preferred by families and couples alike.
What daters say about The Willard
"As soon as we checked in the night we were staying, we were greeted with champagne and chocolate strawberries and a personalized card from Director of Outlets William Rabil (who had, probably unknowingly to him, actually introduced himself a few weeks ago when me and my girlfriend went to brunch). The card, champagne, and strawberries were a huge surprise to me, and especially to my girlfriend. We can't say enough how much that meant to us. The room itself was beautiful and we will absolutely be staying at the Willard again when we decide to spend the night in DC." - Richard G, Washington DC, District of Columbia, TripAdvisor
"My fiance and I celebrated the anniversary of our first date with a weekend stay. We live in suburban Maryland and wanted a nice relaxing stay in the city. We were not dissapointed. From the time we checked in to our driving away, we loved the experience the Willard provides. I should also mention that we are planning our wedding at the Willard, and this provided us an oppotunity to test-drive the stay." - brendaman, Washington DC, District of Columbia, TripAdvisor
"The Willard is one of the most romantic hotels me and my husband have stayed ever." - Alma B, Miami, Florida, TripAdvisor
Why The Willard is a great date spot
The custom tailored service makes this for a perfect place to have a luxurious date with all the pampering a true Queen deserves! The location is perfect as it provides various services on site and is surrounded by 125 restaurants and numerous tourist attractions, historical tours and monumental buildings.
The hotel has a Certificate of Excellence and was recommended by the Forbes . It also has a GreenLeaders Bronze Level. It got the Four Diamond Award. In 2019, it was recommended on the Forbes Travel Guide. On tripadvisor, it made the 10 best Washington, DC wedding hotels. It has a host of other accolades which are outlined here.
What to do nearby
The Willard Intercontinental is located in the perfect spot. With an overview of The Washington Monument, the White House, and a spectacular view of The Lincoln Memorial.
There are lots to do and see in the area alone. You can go to the lobby to savor the cuisine at the Café du Parc. The Round Robin bar is also worth checking - a legendary spot known for its excellent tastes and service, and as the backdrop for historically important political maneuvering since 1857.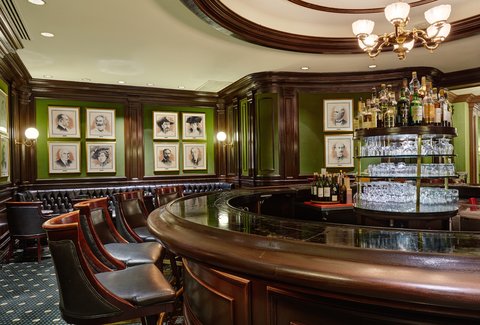 Image source; Willard Intercontinental
Go on a romantic walk to the Freedom Plaza. It has enough walking space to make you both hungry enough to sample some of the other restaurants in this article. You can also catch a play at the National Theater and finish your holiday with a shopping spree in the City Centre DC.
Franklin Hall
Image source: Franklin
Franklin Hall is a classic beer hall that's located in a historical laundry building. It is a classic beer pub with various sports games on all the time and a regular NFL games on Sundays. They offer variety of beers and has a self service for the more down to earth daters. It has an average on 3.5 star rating across Yelp and TripAdvisor with 1 out of 7 reviewers being couples. The main issue mentioned by reviewers is the self service option, however, if you are into sports, good beer and don't mind popping down to grab your own food, this place is perfect.
What daters say about Franklin Hall
"Went to Franklin Hall with my girlfriend when it first opened. It's pretty nuts. The place is huge! It is a combination of Sauf Haus and Buffalo Billiards. This place will be popping off during football season. The TVs are huge!" - Smarty J., Northwest Washington, Washington, DC, Yelp
"REALLY great sausages and beer. Some other things on the menu too, such as tacos and frito pie. Seating consists of long tables and benches. No table service. Get your own drinks on one side of the hall -- 22 beers on tap, plus wine/cocktails--and order food on the other side of the hall. Huge TVs line the walls; lots of games (Uno, etc.) are available to play." - Laura P, Arlington, Virginia, TripAdvisor
"My wife and I visited on a Saturday night and despite it being a Saturday, we were able to get a seat. That doesn't mean it was empty; it actually was packed, but it's so large you're bound to find a seat. They have long low table, long high tables, several bars, a game room, couches, individual tables, you name it." - Austin G., Washington, DC, Yelp
Why Franklin Hall is a great date spot
If you are a fan of sports games this place is going to be right up your alley with its big TVs just for that. They also have weekly trivia night every Monday at 7pm and you can enjoy some board games at no extra cost at all. If you are a hip, down to earth couple who enjoy games - be it intellectual stimulation, good game of football or a game of UNO this place will be perfect for you.
What to do nearby Franklin Hall
This is also a great hangout spot because of the different places you could explore nearby. It has a collection of hotels which include the Embassy Inn, it also has the Smithsonian Garden where you can look at all the beautiful flowers and butterflies.
Image source: smithsonian garden
Nearby you can find the Lincoln theatre where you can watch an array of live shows. Franklin Hall is located at the hub of different attractions that will ensure your date is especially dynamic.
Image source: Lincoln
Takoda
Takoda is the perfect place to visit for those who enjoy modern design, industrial architecture, and rooftop cocktails. Their spacious rooftop garden is open all year and has seating for 120 people, however, if you are planning a winter date you might prefer their indoor entry-level bar and seating area.
It has a wide selection of drinks, a wide cocktail menu, some great whiskey and most importantly - a happy hour every Tuesday to Friday from 5-8pm.
Takoda, has scored a rating of 3.9 stars across Yelp, OpenTable and TripAdvisor with 1 out of 9 reviews left by a couple.
What daters say about Takoda
"This place is your place to go if you're in the Shaw area (especially in the summer)! Their roof top bar is a must and so is their beer selection!
I don't know about you, but if you like mac&cheese, you have to try theirs on their appetizer menu - it's wholesome, cheesy but doesn't weigh you down. It's the perfect food to impress your date! (;" - Hannah C., Woodbridge, VA, Yelp
"I went here for a first date, and boy did I pick the right spot. At first we started on the second floor which had a decent vibe to it and it wasn't overly crowded which I preferred. We ate and ordered the pb&j wings which I'd never even imagined could be a thing but had to try. They were amazing. Seriously some of the best wings I've had in this area." - Zach M., Washington, DC, Yelp
"Takoda has a nice rooftop beer garden that was the perfect way to spend a warm Saturday evening drinking some local beers. The staff were very friendly and they were happy to chat. The atmosphere was welcoming and we ended up staying for a couple of hours even though we only planned to go in for one or two drinks." - 423duncanb, Tripadvisor
Why Takoda is a great date spot
This is a great spot for those who enjoy a variety of drinks, rather than sticking with the casual beer. It has the romantic aura created by a fireplace and a rooftop seating for those who like to enjoy a good view. It prepares great meals - from comfort food to organic and vegetarian meals.
And if you're a rare whiskey buff you'll enjoy this - Takoda was listed as one of the best whiskey bars in 2017.
What to do nearby
Takoda is located in the heart of town and so there are lots of interesting places to explore nearby before . There is the Cambria Hotel where you can stay if the date is planned for more than one day.
The John Marshall Memorial park is a good place to go for the history enthusiasts, and there's the Howard Theatre which is beautiful for private shows, you can book a show in advance here.
(Source: Howard Theatre)
Lupo Verde Restaurant And Bar
Ranked as one of the best Italian restaurants in 2018, Lupo Verde Restaurant and Bar is the place to go to if you are looking for a great, authentic Italian meal. Lupo Verde has gained a Certificate of Excellence 2017 - 2018 by TripAdvisor.
Lupo Verde has been rated 4.0 across TripAdvisor, OpenTable and Yelp with 39% of reviewers being couples.
What daters say about Lupo Verde
"Lupo Verde is amazing! They have incredible food and wonderful atmosphere. Went here on a date with my boyfriend and it was absolutely delicious." - OpenTable Diner, Washington DC, OpenTable
"Loved our dinner here. Great place for a date. Lovely atmosphere and vibe. They were chill about us being 30 minutes late for our reservation (it was a Wednesday, though). Wonderful wine (pinot noir) but didn't love the Focaccia, which was toasted and crunchy. We started with the fried artichoke, which was so tasty. I had the fusilli, which I loved. I can't remember what my date had--was looking at him, not his meal. The service was terrific, attentive yet discreet. Can't wait to come back." - Janet G., Washington, DC, Yelp
"This restaurant exceeded my expectations by miles. I was expecting a 10/10 Italian restaurant and what I got was 100/10. The food was by far the best food I've ever had and the price is worth the experience. My boyfriend and I came here for a date night and we received great food and great service. Very romantic setting and well worth the money" - Isabella K., Menands, NY, Yelp
Why Lupo Verde is a great date spot
Lupo Verde is a great place for those seeking an intimate setting for a nice dinner. This place will be great for couples who are sick of the same old brunch and are ready to put an Italian twist on this romantic tradition. The spot has a great ambiance and the cocktail selection will cater for all tastes.
Lupo Verde has been highly acclaimed by critics on Zagat particularly praising their delicious, freshly made pastas, whilst others praise their cheese and wine pairings.
The place is also very intimate, it seats only 100 people so you know you and your date will be well cared for in a great atmosphere over great food. What's not to love about that?
Source: Lupo Verde
What to do nearby
Lupo Verde is close to various attractions of different styles. You could look for a date souvenir at GoodWood, where you can find vintage shoes and clothing and if the date goes well, maybe return for the first piece of your joined furniture.
Image source: Goodwood
If you and your date are fans of painting, or even better, if you are both terrible at it but would love to learn, you can visit Merlot's Masterpiece, a painting gallery where you can learn how to paint, and watch artists paint themselves to pick up new techniques. Worry not, if you're shy about your painting - they serve wine!
Equinox
Image source: Equinox
Equinox is best known for its exquisite vegan menu. Whilst still offering food options for carnivores, their mouth watering vegan tasting menu just might turn you into a vegan or at the very least impress your date with the fantastic menu and the great food selection.
Its naturally big windows will make it for a great people watching experience and provide a beautuful view of the Washington cityscape.
If you are looking to spend some quality time at an affordable but five-star style restaurant; then you are in the right place. Don't worry; you will be back after the exotic array of foods and drinks.
Rated 4.2 average between TripAdvisor, OpenTable and Yelp, 27% of the reviewers were couples who enjoyed the ambiance, professionalism, and the farm-to-table cooking style.
What daters say about Equinox
"We had a vegan 5 course tasting dinner that was spectacular! There are meat options but it's the vegan menu - particularly the vegan 5 course tasting items on the menu - that brought us in. And WOW. This restaurant is highly recommended!" - jerryo764, Golden, Colorado, TripAdvisor
"Its tough for my girlfriend and I to find nice restaurants in DC that aren't too seafood heavy but when looking for a nice date night place equinox's seasonal menu seemed to be right up our alley." - Todd E., Washington, DC, Yelp
"We visited Equinox for my wife's birthday while traveling to DC. We arrived early, ahead of our reservation, but were seated right away. Everyone that interacted with us were nice and helpful. The food selection was great, even if you are looking for something healthy! And the price, including their wine choices, were reasonable." -Traveler, San Francisco, OpenTable
Why Equinox is a great date spot
Equinox isn't just the obvious choice for vegan couples, it also offers a range of great quality events to raise awareness to the climate and food waste issues.
You could participate in their Earth Day dinner where highly acclaimed chefs prepare NoWaste foods, and use the platform to inform the society. You can also enjoy art exhibits and performances.
Equinox also offers private dining options if you are looking for that extra glamour to your date.
What to do nearby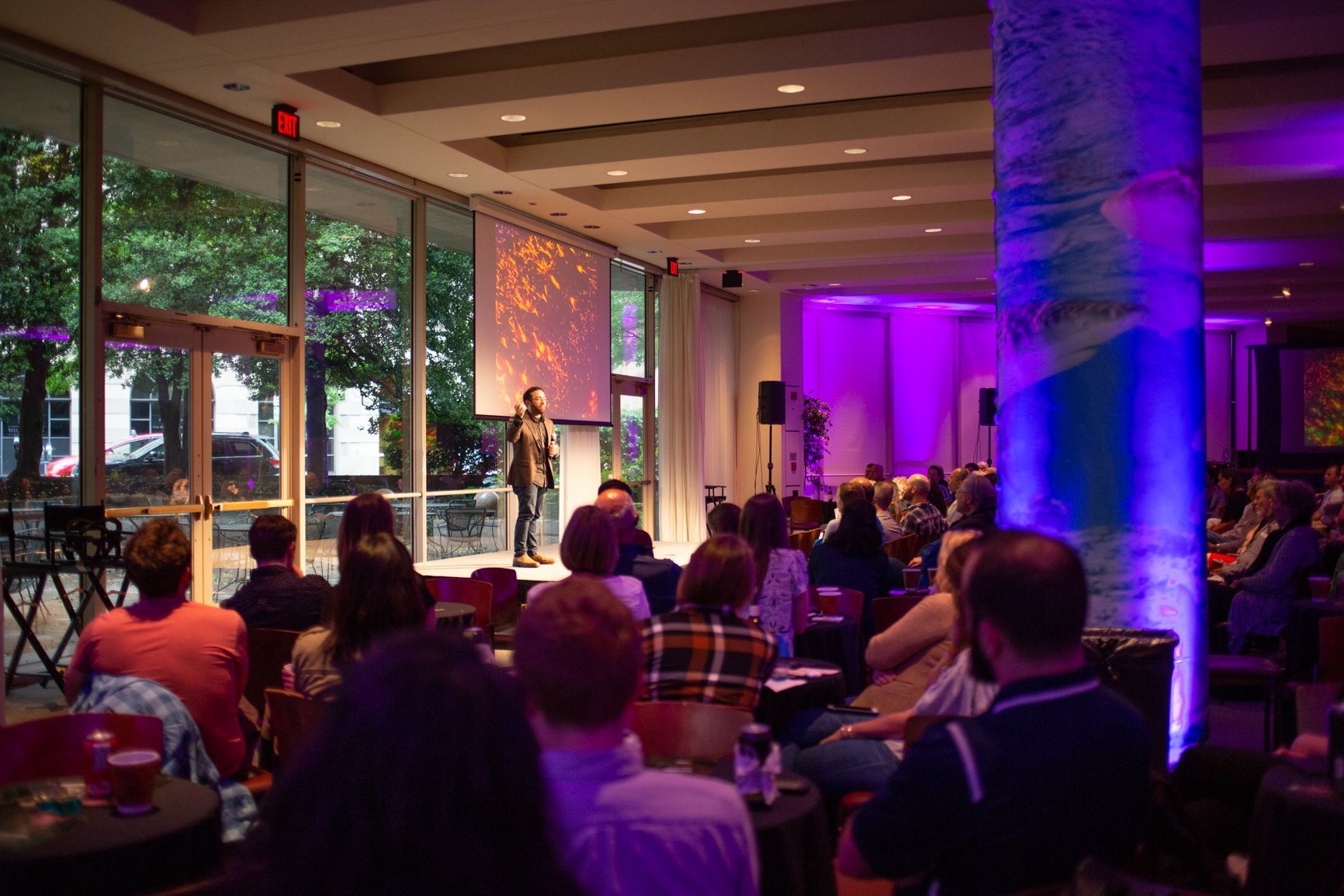 Source: National Geographic
Just a few hundred yards away (a perfect post-meal walk) is the National Geographic Museum which offers various attractions, things to do, see and talk about. Feast your eyes on prehistoric and Egyptian artifacts, and have something unique to spark conversation.
Provision No. 14
Famous for brunch and its artisanal slushies, Provision No. 14 gives daters an intersection of refined. modern America and pre-prohibition ruggedness.
This concept bar and restaurant is located on the corner of 14th and ranked #1150 on TripAdvisor. Across couple reviews, it's rated 3.9 and praised for location, food, ambiance, entertainment, and the crowd it attracts.
What daters say about Provision No. 14
"I thoroughly enjoyed my experience here and will recommend Provision No 14 to anyone looking for a great place for a dinner date. We arrived a little before 8pm on a Saturday night without reservations hoping it wouldn't be too busy. Luckily there was a decent crowd but not too full and we were able to be seated right away. To our amazement they have Saturday happy hour specials" - Debi N., Arlington, VA, Yelp
"Stopped by for a late, slow, afternoon lunch during happy hour. Picked this restaurant completely by chance. Sat outside, ordered the Brussels' sprouts and garlic fries.
The food was very good, the portions were large, the drinks are interesting, and our waiter (waitress) was, simply put, awesome! Friendly and helpful. She brought out 2 sample tastes to share that put the icing on the cake." -Columbus, Ohio, TripAdvisor
"Had to wait a bit for my date since I arrived early and the staff were delightfully attentive, warm, and welcoming until she got there. Once seated, the staff were equally as attentive, knowledgeable, and timely as anyone could want. Food met expectations-- I'd definitely go back just for atmosphere and to see what else they have to offer!" - JVWSimonson, Chicago, OpenTable
Why is Provision No. 14 a great date spot
https://www.instagram.com/p/BmCIShhA4rn/
Provision No. 14 was founded with the concept of pairing unique cocktails with food to create an experience that's "approachable, fun, and local". It's been named one of the best DC spots for fried chicken by Eater DC, and one of the most beautiful restaurants in the U.S. by Eater National.
What to do nearby
Image source: NPCA
There a lot to see and do in DC but take a walk into the past and learn a bit of black history at the home of the founder of Black History Month Carter G. Woodson - national historic site that is so subtle when passing by you could easily miss it. Located on 9th street, this Victorian-style architecture is one place to visit before a meal at Provision 14.
MAP_EMBED
Fish Taco
Image source: Fish Taco
The award-winning Fish Taco, located at 7251 Woodmont Ave. Bethesda, is the right mix of fun and classy with truly authentic Californian meals at very affordable prices. With an average review of 4.5 across Yelp, TripAdvisor, and OpenTable, but only 5% of its reviews coming from couples, this place is obviously a hidden date spot gem!
What daters say about Fish Taco
"Fish taco is a beautiful DC restaurant and with very tasty meals. My partner and I had a wonderful experience during our dinner". - Renee, Tripadvisor
"We had heard so much about this restaurant and decided to check it out. It definitely lived up to expectations and we couldn't have been happier. It was an evening well spent". - Bella, Yelp
"We just came into Bethesda and decided have dinner here. The food was amazing. The service delivery was apt and it was altogether a wonderful experience. It definitely made up for the date nights we've missed out on." -Pamela TripAdvisor.
Why Fish Taco is a great date spot
This 4-star restaurant has been noted for the authenticity of cuisine, winning praise from Thrilist for its true California flavour, reminding of "better times when rush hour was at 3pm, four-person bikes were a thing, and a shell of a North Face was considered a winter jacket".
Fish Taco has been awarded a local small business excellence award, and was named as one of Store Reporter's picks for best new restaurant.
What to do nearby
Fish Taco is out northwest of the DC center in Besthesda -- a little microcosm of great date spots all of its own.
There are great hotels like the Residence Inn, Hilton Garden Inn and Hyatt Regency if you're planning a stay in the area, but for pre-date entertainment visit the acclaimed Round House Theatre and see a world-class production to discuss over a taco.
If raucous comedy is more your thing, check out Positano's weekly Laugh Riot comedy evening on Saturdays.
Brookland's Finest
Image source: Brookland's finest
Brookland's Finest is an American cuisine restaurant, catering for special diets such as vegetarian, vegan or gluten-free - with a selection of great beers.
This place will also suite you if you or your date have a child you'd rather have along on the date. It will be able to accommodate you with a high-chair and colouring books, according to some of the couples' reviews.
It has an average of 4.3 star review between TripAdvisor and Yelp with 28% of the reviewers being couples.
What daters say about Brookland's finest
"Brookland's Finest is the perfect spot for dinner with friends or family.
Atmosphere: It's loud enough that you don't feel like the neighboring tables are a part of your conversation, but not so loud that it takes away from a romantic date night. They are also great with kids--coloring books, high chairs, and attentive staff (the families in there seem to have well-behaved children too, which is a bonus). If you are looking for a delicious, fun place for dinner--look no further than Brookland's finest." - Ayrianne P, TripAdvisor
"LOVE THIS PLACE. It helps that I am in walking distance, but the food and drinks here are very good. There is a great selection of food and local beers. The place feels semi-fancy and chill at the same time. I've been here a few times and have had many of the appetizers (my favorite is the Brussels sprouts) and entrees (the colonel burger). Everything was delicious.
They have a nice patio with outdoor seating and open up the outward facing bar during good weather. I highly recommend this place for any occasion." - Shannon L., Washington, DC, Yelp
"My wife and I had a delicious lunch here on a recent DC visit. Our Pit Beef "sanitches" were a savory delight! The hand cut fries were to die for. Add to this the awesome tempora onion rings with "tiger sauce" and an incredible lunch was had.
There was a excellent, rustic bistro-bar atmosphere along with good and courteous service that complimented our dining experience very well." -edwardc964, Landenberg, Pennsylvania, TripAdvisor
What to do nearby
Whether it is purely a family affair or a romantic getaway, your date would not be complete without paying a visit to the Bad Axe Throwing – a quite peculiar, yet interesting place for fun and games. Learn to throw axes and reveal that lumberjack side of you or have a good laugh. Winner gets to select the next date from this list!
(Source: Wikipedia)
Experience nature like never before at the U.S National Arboretum. This is a national treasure with a serene environment to help you relax after a romantic dinner. It contains 446 acres of flora and fauna blossoms and is popular for its azalea, Asian and conifer collections.
Surfside Restaurant
Image source: Surfside
Surfside is the best place to go for tacos, burritos and fresh mex food. If restaurants with white tablecloths isn't up your alley Surfside will be the place for you. It has a cozy atmosphere, it serves great comfort food and it is open 24 hours a day.
You can even take your or your partner's child along as kids eat free on Mondays!
Surfside offers great Mexican food, has vegetarian friendly options, gluten free foods as well as an array of great drinks from Budweiser to Margaritas.
Surfside has received a 4.0 star rating across Yelp and TripAdvisor, with one in five reviewers visiting in a couple.
What daters say about Surfside
"Fast service, delicious food. Very convenient. The new bbq pork enchiladas are amazing. I will eat them time and time again. Usually I go with the Bonaire but man were those enchiladas on point. Can't wait to eat them again. Girlfriend got the vegetable burrito and it was also great for her with nice diversity of veggies. Oh also open 24 hours so enjoy at all hours." - Alexi S., Washington, DC, Yelp
"One of the few places in DC that's good and open 24/7. Personal favorite has to be the Mackinac which is packed with all sorts of amazing breakfast options, eggs, cheese, bacon, hash brown and wrapped in a delicious flour tortilla. Coming from Los Angeles, this is the closest thing your going to find as a late night Mexican spot that has good. This spot doesn't compare to the Mom n Pop joints in Los Angeles, but it's DC's best option to date. Just be prepared to wait in line if your going Friday and Saturday nights" - Yoseph H., San Francisco, CA, Yelp
"The portions are good and the flavors are a nice variance from the fresh mex food I enjoy in California. Good value for pricey G-town." -Iownit, Capitola, California, TripAdvisor
Why Surfside is a great date spot
Surfside restaurant is spread across two floors so is spacious enough for you and your date to find a seat. However, it works 24/7 so it's possible to choose a time other than the food rush hour or even pop for a meal after other restaurants have long closed.
You can combine Surfside with any of the other dinner date options provided in this article as you explore Washington D.C. It's the perfect place to finish your date with a great comfort food after a long day of city viewing or quite the opposite - grab a breakfast burrito before heading into the unknown if your dinner date is reserved for later. Pop in for a Margarita or a light beer on a hot day! Surfside is a great spot for any occasion, time of the day and mood!
What to do nearby
The perfect date is summed up by the right ambience, food, and visits to fun places. Luckily, Surfside has a central location that is close to various places of interests. Go to VR Zone DC for some virtual reality entertainment, have a crack at the arcades and let the childhood memories meet new technology.
Dumbarton Oaks
)
Highlight your date by making it more unique and special. Enjoy Harvard's Dumbarton Oaks and bask in nature's finest landscape and historic gardens. You can also make it more interesting and artistic by visiting its museum and music room for art exhibitions and concerts.
Are you an adventure junkie? Prepare for the exciting escapes at Insomnia Escape Room; a new real life escape game. It is ranked second of the 40 fun and games in Washington D.C. because of its nail-biting intensity. Find keys, crack codes, and uncover mysteries while trying to accomplish a mission. Fun right?
The Jefferson Hotel
The Jefferson hotel is a 5-star luxury hotel in a central location to many museums. The hotel has been known for its classy and top notch services plus the luxury rooms designed to make you feel like royalty.
It has an inhouse restaurant which has been critically acclaimed and the hotel offers other services such as a luxury spa.
This hotel has been rated 4.8 stars across OpenTable, TripAdvisor and Yelp with many couples speaking highly of the hotels' treatment to special occasions and romantic getaways.
What daters say about The Jefferson
"Truly as good as it gets. Came here to celebrate our 2nd anniversary and the girlfriend loved it as much as I did. The Petit Spa was very intimate for a couple's massage, and the staff were extremely accommodating. As soon as we pulled in, my luggage was taken to my room and properly organized in the closet. Champagne and strawberries were waiting for us in the room after the massage as instructed." - Majed K., Beltsville, MD, Yelp
"My boyfriend and I actually live in DC, and decided to take a "staycation" as The Jefferson has always been regarded as one of the nicest in DC. I am a frequenter of their hotel bar, The Quill, and so I've at least been very familiar with their lobby and bar, so it was great to actually experience the rest of the hotel!
"We were greeted warmly by the reception, promptly checked in, and made our way to our room. One added bonus was that we were actually emailed prior to our stay to inform them of any additional guests besides myself, notifying them of any special events (it was our anniversary), as well as any preferences for our room." - Hailey DC, TripAdvisor
"Absolutely beautiful brunch spot! The service was excellent, the food was out of this world, and the ambiance/decor was perfection. Totally would return." - OpenTable Diner, Washington DC
Why The Jefferson is a great date spot
If you are celebrating a special milestone with your date, the hotel will provide champagne and strawberries in the room. You can opt for couples massages in a nice and intimate environment, have a meal at their luxurious restaurant or a fantastic cocktail in their bar. This historic gem houses many books and will be the perfect getaway spot for those who are socially conscious as for every booked too, the hotel donates a book to a child in their First Library program.
What to do Nearby
The Jefferson is located in the very heart of Washington D.C. so of course there are the obvious choices such as visiting the White House or the National Geographic museum.
(Source: Wikipedia)
Alternatively, you could visit the National Museum for Women in Arts and the Farragut Square, enjoy beautiful walks and sightseeing, learn some history and expose yourself to some feminist culture before returning to the hotel for a nice meal or an artisan cocktail.
Big Bear Cafe
(Source: Big Bear Cafe)
Yelp - 3.5/ Tripadvisor - 4 / Opentable - 4.2
It is not every day you see a café which also serves as an event centre in Washington DC. And that is one of the reasons Big Bear stands out in the bustling DC area. It is a place where you and your date can get delicious meals, hot coffee, pastries, cute gift items, and not to forget a perfect spot for your wedding anniversary, birthday party, or even wedding party.
These are some of the reasons couples rate Big Bear an average of 4 out of 5 across Yelp. TripAdvisor and OpenTable. Of the reviews online around one third of them came from couples, showing Big Bear is deservedly a popular spot for dating.
What daters say about Big Bear Cafe
"I love Big Bear. The workers are all lovely and friendly, and the food is good! The weekends can get hectic, but that is because everyone loves this cozy spot. I recommend the breakfast burrito to everyone. This is a great place to get work done, read a book, or bring a date." - Ali B., Boulder, CO, Yelp
We were looking for a place to sit and have coffee and breakfast. Our Airbnb owner suggested Big Bear Cafe. After a short walk arrived. Nice, quaint friendly place with indoor and outdoor shaded patio. Weather was nice so we sat outside. Food, juice and coffee was great. Now on my list of DC places to return to one day." - chip71282, Tallulah, Louisiana, TripAdvisor
"This place is great. Excellent espresso drinks, good coffee shop vibe on weekends -- a great spot for meeting friends or doing work. They also focus on serving local (and I think) organic foods. They have a great weekend brunch/lunch special.
At night, the cafe transitions into more of a restaurant -- which I stumbled on by accident yesterday and found myself pleasantly surprised. It was filled with families and couples -- the ambiance could also make it a great spot for a date. I ordered the shrimp quesadilla, which was delicious. Cocktails look and smell fab." - Kate B., Washington, DC, Yelp
Why Big Bear Cafe is a great date spot
You might usually walk past any other cute café in DC, but the aroma of freshly made pastries, and hot steaming coffee will most definitely change your mind here.
We guess this is why Conde Nast rated it as one of DC's top 10 coffee shops -- high praise indeed in a major city with so many established outlets to choose from. Eater DC noted that Big Bear is one of the city's best restaurants that double as wedding venues, so keep in mind for the future if that date goes _really _well.
What to do nearby Big Bear
There are various pre- and post-date activities and places you and your date can visit around Big Bear Cafe. There is the Lunar Massage where you can be treated to a session of joint and muscle-relieving massage to clear any tension...
...And Violet Boutique - another spot where the you can shop for a special woman to pick out a great gift. Violet Boutique is a local store that sells trendy and affordable clothing and accessories for women, to buy before you settle at Big Bear for coffee.
The Inn at Little Washington
Image source: Inn at Little Washington
A famed destination for vintage and classy dining and reservations, The Little Inn at Washington is revered for its exceptional value. Formerly a garage, this Virginia hotel is the epitome of comfort and luxury as it also holds a world-class restaurant which ranked as one of Washingtonian's 100 Very Best Restaurants in 2016.
A night at The Inn costs about $700 with breakfast and up to $1200 for late reservations. Ratings on this hotel fall between 4.8 and 5 on TripAdvisor and Travelocity. Sleek!
What daters say about The Inn
"Once we entered, we were warmly greeted by the host and he took our jackets and helped us to our seats. When we were handed our menu's i almost cried. Our menu's were customized with our names and our anniversary date!!!" - Jennifer N., Fairfax, VA, Yelp
"It was our 31st Anniversary dinner. A once in a lifetime dining experience." - OpenTable DinerWashington DC, OpenTable
"This has been on my "bucket list" for a long time and now I understand why they receive such high marks and fabulous reviews- because every course was an experience, in and of itself. I have eaten at many top ranked restaurants but can easily say "the best" and the most memorable. I didn't want the experience to be over!" - MarylandGirl, Frisco, Texas, TripAdvisor
Why The Inn at Little Washington is a great date spot
Image source: Inn at Little Washington
With five solid diamond stars on Forbes, this hotel restaurant also has overwhelming amenities intended to make you and your partner revel your stay at The Inn. On arrival, you will be greeted with a welcome cocktail, and your reservation earns you access to the magnificent ballroom and the esteemed world-class suites. Complimentary services also include the continental breakfast, valet parking, dry-cleaning, Wi-Fi and pristine housekeeping.
The Inn's accommodation options include The Cottages, The Parsonage and The Houses.
What to do nearby The Inn
The archetypal town of Washington is home to some astonishing buildings dating back to the 1700s. Among these are playhouses, various shops, landscapes, wineries, estates and rare art galleries.
For 125 years, Luray Caverns have enthused visitors with their stunning caves. Another eye-catching location is Sperryville which is only 6 miles from Washington. It is a picturesque setting, suitable for lovers and is nestled at the end of the Blue Ridge Mountains. Also available at the famed site is an abundant fruit orchard and a coffee shop.
Are you just looking to catch some good old outdoor fun? Rappahannock holds an updated annual calendar of events happening in and around the Virginia area.
The Sally D.C
Eight out of ten diners will probably miss The Sally restaurant and bar because of its location but if you are a business traveler, live in DC, or are a lover of good food and drink, then you will find this gem tucked away in the heart of Washington.
This beautiful modern décor style restaurant/bar is a depiction of how the food scene has transformed in the US over the years - Sally's restaurant is based on French chef Ricardo Planas who has introduced the small plate cocktail style where diner get to enjoy exotic and well-prepared French style American cuisine at the best.
Speaking of location, The Sally is located in the DuPont Circle area at The Fairfax Hotel and uses locally sourced produce to create mouthwatering dishes. With an average rating of 4.5, you can't come to DC and not wow your date at Sally.
What daters say about The Sally
"Had an amazingly delicious dinner here! It's small plates. Cocktails are fun and tasty. Highly reccomend lobster ceviche, ahi tuna, pork with sweet potato spaetzle, and the fallen ice cream cone for dessert. Service was good. Nice wines. Definitely coming back to this restaurant." - Washington DC, District of Columbia, TripAdvisor
"My wife and I were delighted to find this gem. Our food and service were fantastic. We were recommending it to friends before we left the building." - JustinR, San Francisco, OpenTable
"Beautifully decorated intimate space with fantastic food and cocktails.Next time you're in DuPont be sure to stop by and try the shrimp taquitos and gnocchi! Will definitely be returning soon." - Cecilia P., Alexandria, VA, Yelp
Why The Sally is a great date spot
The Sally is known for ambiance, food, cozy atmosphere and the welcome but what most daters don't know about Sally is that they have their spin on all things cocktails.
Locally sourcing all ingredients, you are going to be wowed by the bartender displaying his stuff - and of course a good drink to keep the discussion flowing! Try out their signature DC-themed cocktails like the Rickey on the Row and Lady from Georgetown.
What to do nearby The Sally
Sally is located at the DuPont Center in the rich and bustling center of DC, and with lots of places to see like the Smitsonian Zoo, which hosts all kinds of events for animal lovers, like welcome parties for pandas!
It is also home to the White House, Smithsonian Museum and of course the Kennedy Center for the Performing Arts for Live music.
What lovelier way to end a date than listening to beautiful music from acclaimed musicians pouring out their souls with words that entice the hearts of two lovers.
Purple Patch
It's no doubt that there are so many popular restaurants in the city -- DC is known for this -- but it's also possible that you and your date are tired of the same old stuff.
Sometimes, you need a spicy Filipino ot Asian meal to start the day, the afternoon, or to even end the night. Purple Patch has become one of the major restaurants to visit because of their famous Lumpia dish made with beef, pork, and banana flavored ketchup dipping. Never had chicken wings with Calamansi sauce? You would definitely come for more of Purple Patch's' Calamansi sweet and spicy Calamansi sauce.
Across TripAdvisor and Yelp, Purple Patch has a rating of 4.5, and 29% of its customers are couples.
What daters say about Purple Patch
"Updating my prior reviews to 5 stars. I keep coming back to this place, and it has become one of my favorites in Mt Pleasant. I really like the ambience and consistent great customer service. Perfect for a casual date night or outing with friends." - Victor M., Washington, DC, Yelp
"Favorite brunch spot-- especially love the sizzling sizig and the ube ice cream! Great for dates (reserve a table upstairs, where it's cute and airy), and great for kids (sit downstairs, by the play area)!" - Sarah G., Durham, NC, Yelp
"Had a reservation for two. Got the sliders with shitake instead of meat as appetizers and it was amazing!! Highly recommend. Will be returning for happy hour as their apps and drink specials look affordable and interesting!" - Anayshah92, Beijing, China, TripAdvisor
Why Purple Patch is a great date spot
With customers and critics reviews alike, Purple Patch has been rated #62 in Washingtonian's top 100 DC restaurants. A lot of customers praise their customer service, meal, and value quite highly. Purple Patch has different vegetarian and gluten-free meals which go perfectly with the great beer and cocktails they offer.
"Purple Patch is definitely a place to come where you want to impress without looking like your trying to, casual and fun but with a playful elegance. Just a hint, if you make a reservation, we will print a welcome card with your name on it. Also, if you come on Wednesdays, you can have dinner and enjoy music played by local pianists or sign up and you can play as well.", says Patrice Cleary, Purple Patch's Chef and Owner.
What to do nearby Purple Patch
Purple Patch is located in Mt. Pleasant - a hip, liberal location for laidback dates and great nightlife.
Next up on the list after Purple Patch should be the famous Pershing Park. This park was founded in the early 20th century and has an interesting history, once much smaller but now redesigned as the National World War 1 memorial.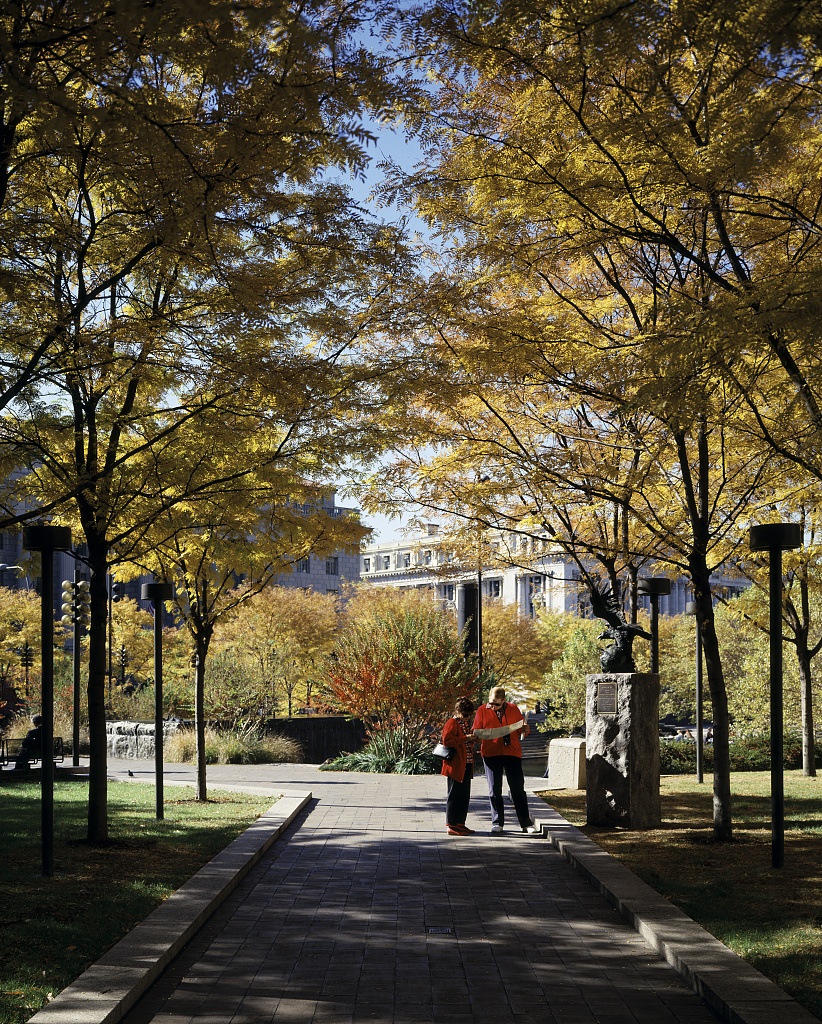 Certainly, after having a nice meal, taking a stroll on 14th Streets Bridge especially early in the morning is delightful. The bridge crosses the Potomac River with a stunning view of the Jefferson Monument.
(Source: Wikipedia)