| Overall Rating | 4.5/5.0 |
| --- | --- |
| Communication | |
| Matching System | |
| Mobile Usability | |
| Registration | |
| Support | |
| Terms And Conditions | |


Tawkify is an exciting and unique online matchmaking service. Unlike most online dating websites, Tawkify employs professional matchmakers to make personalized matches for its users. According to its website, Tawkify "offers Traditional Matchmaking without the Traditional Price Tag." This service was founded by E. Jean Carroll, the woman behind the Ask E. Jean advice column in Elle Magazine. With hundreds of thousands of unique visitors each month, Tawkify stands out from other dating sites.

Visit Tawkify Website >>
---
Tawkify Communication
| Overall Rating | |
| --- | --- |
| E-Mail | |
| Chat Functions | |
| Video Chat | |
There are several different means of communication available to Tawkify members. There is a standard email chat function which matches to chat on. There is also a live chat functions for matches to talk in real-time on Tawkify. There is no available video chat function offered on Tawkify. Overall, means of communication offered to members on Tawkify are good.
---
Tawkify Matching System
| Overall Rating | |
| --- | --- |
| Personality Test | |
| Profile Matching | |
| Profile Visitors | |
| Block Users | |
The matching system used on Tawkify is unique and highly rated. The service employs a personality test to get to know members on a more intimate level. Tawkify uses a profile matching system to set up matches together. Users are not granted permission to see which other matches have visited their profile. Tawkify users are, however, given the chance to block other users, if they wish. In summary, the matching system on Tawkify is very good.
---
Tawkify Search Features
| Overall Rating | |
| --- | --- |
| Picture Search | |
| Keyword Search | |
| Now-Online Search | |
| Search By Profile Criteria | |
| Show New Members | |
The point of Tawkify is not to allow other members to search for their matches - instead, it has staff to handpick good matches and surpasses the need for search. Thanks to the application's search power for matchmakers, the site scores well despite its lack of search functionality for end users.
---
Tawkify Mobile Use
| Overall Rating | |
| --- | --- |
| Mobile Usability | |
| App Usability | 0 |
| Android App | |
| iPhone App | |
Tawkify does not excel in regards to its mobile usability. When using the service on a mobile browser, the site interface becomes very easy to operate. There is, however, no app available to download for this service. This service doesn't have an app for download for Android phones. There isn't an app available for Tawkify in the iTunes app store either. Overall, Tawkify is weak when it comes to mobile usability.
---
Tawkify Usability
| Overall Rating | |
| --- | --- |
| Login with Facebook | |
| Ease Of Registration | |
| Ease Of Use | |
Registering for and using a profile on Tawkify are easy processes. There is no feature that allows for new users to sign up with a Facebook account. The process of registering a new profile is an easy one. Setting up a new profile takes some time, but not too much. Once the profile is created, it is very easy to use. In summary, registering and using a profile on Tawkify are very simple.
---
Tawkify Popularity
| Overall Rating | |
| --- | --- |
| Facebook | |
| Male/Female Ratio | 51/49 |
| Main Age Range | 20-40 |
Tawkify is a popular service among those who use it. Among its user base, average age of users tends to be in the middle range. The site has high user volume and is considered to be popular. The site isn't particularly popular among Facebook users, however. Profiles on Tawkify are considered to be of a high quality. Overall, this service is very popular among its users.
---
Tawkify Support
| Overall Rating | |
| --- | --- |
| Support FAQ | |
| E-mail / Contact Form | |
| Phone | |
| Helpful Articles | |
| Forum | |
Tawkify does exceedingly well when it comes to customer support. There is a thorough and prominently displayed FAQ page on the site. There is also an easy to use mail contact form for members to address concerns. The site features a direct help customer service phone line. There are blog posts posted to Tawkify on subjects pertinent to its user base. There is, however, no forum or message board on the site. Generally, Tawkify offers its members several different means of customer support.
---
Tawkify Terms And Conditions
| Overall Rating | |
| --- | --- |
| Free Offer | |
| Highest Price | 499.00 USD |
| Lowest Price | 8.00 USD |
| Free Trial Period | 0 |
| Monthly Plan | |
Terms and conditions for joining Tawkify are fair, but explicit. There is no unlimited free plan offered to users. All members must purchase a paid membership at a comparatively high price. The site's cancellation terms are quite transparent. For members, the membership is available on a monthly basis. Terms and conditions for joining Tawkify are considered fair for what they're offering.
---
Tawkify Summary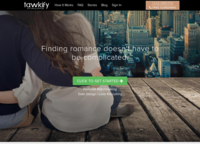 Tawkify is a unique online dating service that employs professional matchmakers to bring singles together. Tawkify offers a few different ways for singles to communicate with one another. The matching system they use is personal and successful. There are no search functions offered to members, as their matches are personally selected. The site falls flat when it comes to mobile usability, as no mobile app is available. It is easy and quick to join and use the site. Tawkify is popular among its user base. The site offers several different avenues for customer support. The terms and conditions are fair for what it is offering. Overall, Tawkify is a unique service that succeeds in what it achieves to do.