| Overall Rating | 4.3/5.0 |
| --- | --- |
| Communication | |
| Matching System | |
| Mobile Usability | |
| Registration | |
| Support | |
| Terms And Conditions | |


MatureSinglesClick is unfortunately no longer active. We recommend our test winners instead: EliteSingles, eharmony und JDate.

MatureSinglesClick is mostly focused on the age range 45+ and it helps the members find a perfect match. The matching system and search functions help members meet many other people with similar interests. It is a popular site because of its excellent terms and conditions and ease of use. It is definitely an option to consider if you are in the age range mentioned above.

Best Dating Sites >>
---
MatureSinglesClick Communication
| Overall Rating | |
| --- | --- |
| E-Mail | |
| Chat Functions | |
| Video Chat | |
Users of MatureSinglesClick will be able to communicate using built-in functions of this easy to use dating site. Members can use the email function to send messages to one another. Currently, users cannot use any chat options to communicate. Additionally, there is no option of video chat at the moment so users will have to use the pictures as reference.
---
MatureSinglesClick Matching System
| Overall Rating | |
| --- | --- |
| Personality Test | |
| Profile Matching | |
| Profile Visitors | |
| Block Users | |
The matching system is very well thought through on MatureSinglesClick. Even though there is no personality test used for the matchmaking, the system can still use other criteria to match the members. Users will be classified using their profile criteria. Users can see who visited their profile recently. Users can also decide to block selected users from visiting their profile at any time.
---
MatureSinglesClick Search Features
| Overall Rating | |
| --- | --- |
| Picture Search | |
| Keyword Search | |
| Now-Online Search | |
| Search By Profile Criteria | |
| Show New Members | |
The search function of MatureSinglesClick is excellent and perfect to find someone fast. Users are able to classify their searches by photo. Users can also add keywords to their search to filter results for a more matching solution. At the same time, members can see which other members are online at that exact moment. Users can also search by profile criteria. If members want so, they can check for users that just signed up in the page.
---
MatureSinglesClick Mobile Use
| Overall Rating | |
| --- | --- |
| Mobile Usability | |
| App Usability | |
| Android App | |
| iPhone App | |
The website of MatureSinglesClick is completely ready and functioning both on desktop and mobile device. The mobile version is as excellent as the desktop one. The App is also extremely good, offering all the usability of the website itself. Android users will be able to download the App from the Play Store. However, there is still no version available for iOS users so they will not be able to find it in the App Store.
---
MatureSinglesClick Usability
| Overall Rating | |
| --- | --- |
| Login with Facebook | |
| Ease Of Registration | |
| Ease Of Use | |
The registration process and ease of use of MatureSinglesClick is one of its best aspects. Users will be able to use their existing Facebook profile to sign up. Registering on MatureSinglesClick is a very simple and fast process. Once the users are registered, it is extremely fast to setup their account and start searching for a match. Overall, the website is very easy to use.
---
MatureSinglesClick Popularity
| Overall Rating | |
| --- | --- |
| Facebook | |
| Male/Female Ratio | 51/49 |
| Main Age Range | 45-50plus |
The main user focus on MatureSinglesClick is of those aged 45-50 plus. This makes it a very selective user base. Even so, it is a very popular choice so the amount of members is very high. The profile quality is very good as well. The Male / Female ratio on MatureSinglesClick is very well balanced at this point in time.
---
MatureSinglesClick Support
| Overall Rating | |
| --- | --- |
| Support FAQ | |
| E-mail / Contact Form | |
| Phone | |
| Helpful Articles | |
| Forum | |
The support section of MatureSinglesClick is fairly good. There is an FAQ section available to all members, which will solve all the most commonly asked questions. However, should the members have more personal and difficult questions, they can always ask the support department directly by email. There is no direct phone line currently. There are no help articles available on the site. Additionally, there is no forum available at the moment.
---
MatureSinglesClick Terms And Conditions
| Overall Rating | |
| --- | --- |
| Free Offer | |
| Highest Price | 29.00 EUR |
| Lowest Price | 10.00 EUR |
| Free Trial Period | 0 |
| Monthly Plan | |
The terms and conditions is one of the best aspects of this website. The terms are clear and easy to find. There is a free plan offered to the users when they sign up. However, should they use to upgrade to premium, the price is medium. The terms and conditions regarding the cancellation are transparent and very easy to understand. There is no trial version of the site. Users are offered a monthly cancellation option in case they don't need the services anymore after finding their better half!
---
MatureSinglesClick Summary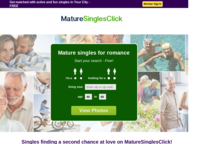 In conclusion, MatureSinglesClick is perfect for those looking for a couple in the age range of 45+. This is because of its variety of members, popularity, and clear search options. The matchmaking system is also very well rated and the terms and conditions make it easy to sign up or cancel anytime. The support even if only by FAQ and email is excellent.