| Overall Rating | 4.5/5.0 |
| --- | --- |
| Communication | |
| Matching System | |
| Mobile Usability | |
| Registration | |
| Support | |
| Terms And Conditions | |


Chemistry.com is an online dating service and partner site to Match.com. What sets Chemistry.com apart is its science-based approach to matchmaking. Chemistry.com uses research conducted by human behavior specialist Dr. Helen Fisher in its matchmaking service. Since its founding in 2006, millions of people worldwide have taken Chemistry.com's personality and relationship assessment. According to its website, Chemistry.com strives to help singles who are looking to develop meaningful relationships with their matches before the first date.

Visit Chemistry.com Website >>
---
Chemistry.com Communication
| Overall Rating | |
| --- | --- |
| E-Mail | |
| Chat Functions | |
| Video Chat | |
Something that sets Chemistry.com apart from other dating services is its unique and fun communication features. Apart from the standard mail messaging, the service provides Chemistry Starters, fun and innovative activities that act as ice breakers. What are missing from Chemistry.com are instant messaging and video chat capabilities. Generally, Chemistry.com's communication features are unique and fun, but also limited.
---
Chemistry.com Matching System
| Overall Rating | |
| --- | --- |
| Personality Test | |
| Profile Matching | |
| Profile Visitors | |
| Block Users | |
Chemistry.com's matching system is one-of-a-kind. The service uses an in-depth personality questionnaire to learn about its users and what each user is looking for. The results from the questionnaire become accessible to that user's matches. Chemistry.com will assign the member a personality type after completing the questionnaire. This allows for more closely-targeted matches. Chemistry.com also gives users new potential matches every day. Overall, Chemistry.com's matching system is exceptionally thorough and unique.
---
Chemistry.com Search Features
| Overall Rating | |
| --- | --- |
| Picture Search | |
| Keyword Search | |
| Now-Online Search | |
| Search By Profile Criteria | |
| Show New Members | |
The search functions on Chemistry.com are simple, but also very limited. The service allows members to search among their pool of matches based on simple profile criteria. A big downfall of this search function is that members are limited to only searching the profiles Chemistry.com has deemed as matches. There is no function for searching users based on keyword, online availability or date of registration. Overall, search functions on Chemistry.com are simple and straightforward, but quite limited.
---
Chemistry.com Mobile Use
| Overall Rating | |
| --- | --- |
| Mobile Usability | |
| App Usability | 0 |
| Android App | |
| iPhone App | |
Chemistry.com is easy to use on mobile devices, but also limited in its availability. The website is easy to access and navigate on a mobile browser. This makes it accessible for anyone with a mobile phone. There is no available Android app for Chemistry.com. An app is not available in the iTunes app store either. Chemistry.com falls a little flat when it comes to mobile usability.
---
Chemistry.com Usability
| Overall Rating | |
| --- | --- |
| Login with Facebook | |
| Ease Of Registration | |
| Ease Of Use | |
Chemistry.com's website is simple and easy to navigate, but registering with their service can be time consuming. Creating a member profile takes a bit longer than other online dating services. This is because the personality questionnaire must be filled out before a member can access the rest of the site. The personality test doesn't take very long to complete. The website is remarkably direct, minimal and ideal for navigation. Registering on Chemistry.com can be a timely process, but once registered, navigating their website is effortless.
---
Chemistry.com Popularity
| Overall Rating | |
| --- | --- |
| Facebook | |
| Male/Female Ratio | 34/66 |
| Main Age Range | 25-50 |
Chemistry.com has a large user base. This dating service receives a large number of unique visits per month. Millions of people worldwide have taken their personality and relationship assessment since the website's founding. The service doesn't target to any specific demographics, but there are more female Chemistry.com members than there are males. On average, most users tend to be middle-aged. Chemistry.com is a popular online dating service.
---
Chemistry.com Support
| Overall Rating | |
| --- | --- |
| Support FAQ | |
| E-mail / Contact Form | |
| Phone | |
| Helpful Articles | |
| Forum | |
There are several accessible means of customer support at Chemistry.com. Customer service representatives are available on live chat every day during work hours. There are thorough and specific answers to FAQs available on the site. An easy to access mail contact form is featured on the site for any questions and concerns not addressed in the FAQ. Customers are not provided a customer service phone number. Chemistry.com provides its members with several easily accessible means of support.
---
Chemistry.com Terms And Conditions
| Overall Rating | |
| --- | --- |
| Free Offer | |
| Highest Price | 34.00 USD |
| Lowest Price | 12.00 USD |
| Free Trial Period | 0 |
| Monthly Plan | |
Terms and conditions for registering at Chemistry.com are very fair. Users are able to access most of the available features with a free membership. Unavailable to those with a free membership are access to anytime communication with matches, games and profile views. A paid membership gives members the ability to access all features offered with this service. The paid membership is sold as one of three subscriptions: one month, three months or six months. Generally, Chemistry.com's terms and conditions are fair and generous.
---
Chemistry.com Summary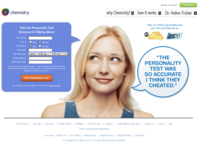 Chemistry.com is an online dating service that uses a science-based approach for matching users together. Chemistry.com excels in its unique matching system, based on its personality questionnaire. Communication, search functions and mobile usability on Chemistry.com are all effective, but limited. Registering with Chemistry.com is a lengthier process than with other dating services due to the questionnaire that new members must take. This service is very popular and widely used among middle-aged people. Chemistry.com provides users with several available means of customer support. The terms and conditions of the service are very fair. In conclusion, Chemistry.com is a unique and thorough dating service for singles who are serious about developing a meaningful relationship.